The hotel restaurant, Le Fontanelle, in an old farmhouse completely surrounded by green, offers a structure equipped with all amenities, fixtures and fittings, where the marble and mosaics adorn the environment with class and elegance.
The conference room , garden, outdoor pool, bar with ' exclusive aperitif ', the pastry corner and convenient private parking complete meets the needs for a business meeting or a relaxing day. And why not take a walk to the nearby golf course or in the beautiful park of the Cascine di Tavola or a dip in the pool.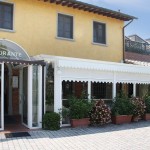 The restaurant "Il Valentino " is our pride and specializes in seafood menus. You can taste the variety of flavours refined with constant attention to the quality of food and customised special needs, including for people with celiac disease, test the skill of the chef's Daily with a variety of excellent fresh vegetables from our garden.
The pastry and ice cream are homemade, serving pastries and ice creams are prepared fresh daily.